11.12.2021 Today, the new photos of our little grands. They're 5 weeks:)
More in...<<<
05.12.2021 A little Arya is looking for a new, loving home.
She's very nice and she loves all people:)
More in...<<<
04.12.2021 International Dog Show - Kassel
Taurus Rosagos won champion class (Anw.Dt.Ch.VDH)
Judge: Bettina Smith Horn from Germany.
Photos...<<<
20.11.2021 Today our grand's babies two weeks:)
More in...<<<
13.11.2021 International Dog Show - Poznań
Taurus Rosagos excellent & CAC in open class.
Thank you judge Mr Petr Rehanek from Czech Republic.
Photos...<<<
06.11.2021 It's a great new, we've grand basset griffon vendeen puppies. Two males and two females:)
More in...<<<
03.10.2021 Puppies - 13 weeks.

Kenia and her granddaughter Arya :)
More in...<<<
29.08.2021 Puppies 8 weeks.
More <<<
27.08.2021 Our holidays this year:)
Kenia, Dakota & Gosia were visiting Netherlands.
Our other dogs spent their holidays at the Polish seaside.
More...<<<
15.08.2021 Puppies're 6 weeks.
More <<<
30.07.2021 Club Show of Spaniels and Water Dogs. - Opole
Taurus Rosagos was great and he was excellent II/V. Many thanks to Martyna Nowak for professional handling. The judge was cockers' breeder Mrs. Helle Dan.


More photos<<<
26.06.2021 International Dog Show - Chemnitz (Germany)
It's been the first show in this year! Our Kenia finished her German championship:) And Bachus started his way to be German Champion. Oliver Barthel was the judge in the ring.Thank you very much.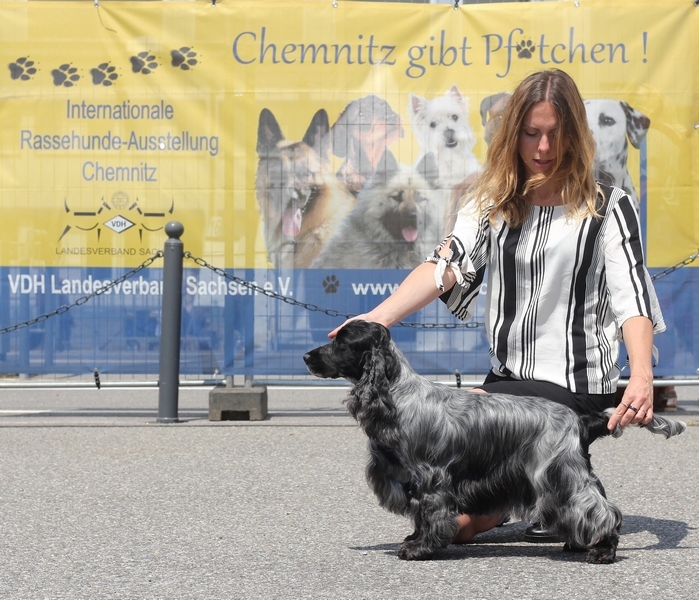 More photos<<<
30.05.2021 Club Show in Denmark. HAWANA Rosagos won exc1 & Veteran Club Winner & BIS Veteran I. Big congratulations for Karin:)
More photos of Hawana<<<
07.05.2021 TAURUS Rosagos, son of my lovely Tajga (EXCLUSIVE ELISIA z Petrovy palenky) and the famous show dog Blepers PRIME MINISTER, obtained the status of STUD DOG :):):)
More info about Bachus <<<
17.04.2021 Ussuri & Uri-10 weeks.
More <<<
10.04.2021 Children 9 weeks.
More <<<
27.03.2021 Puppies are 7 weeks:)
More <<<
13.03.2021 Litter "U" five weeks.
More <<<
06.03.2021 Litter "U" four weeks.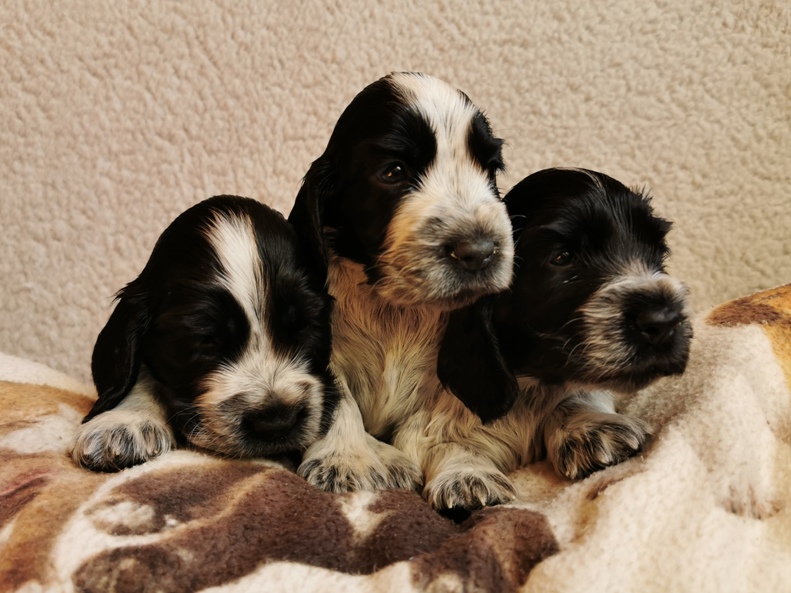 More <<<
27.02.2021 Our puppies're 3 weeks now:)
More <<<
06.02.2021 It's great news, puppies were born!!!
Mother is Dakota(Night Pearl Rosagos) and father is Jagger(Dash Of Magic My Own Dream).
There're eight puppies: blue roan female, two blue roan & tan females, three blue roan males and two blue roan & tan males.

| | |
| --- | --- |
| | |
| JPLCh,PLCh NIGHT PEARL Rosagos | Multi JCh,PLCh,MNECh Dash Of Magic MY OWN DREAM |
| | |
More <<<
07.02.2021 Finally some snow and happy Kenia with Fenix:)


More....<<<
01.02.2021 Our funny team, but sometimes they do everything wrong:) However life would be sad without them.


and here some friendship between dog and cat at our home:):)


More....<<<
30.01.2021 We walk and walk..but there's no snow here:(


More...<<<
---
---
---
---
---
---
---
---
---
---
---
---
---
---
---